Description
Lumin CPAP Cleaner and Sanitizer disinfects your CPAP mask and water chamber. It is the easiest, fastest, and safest way to disinfect your CPAP mask and water chamber. Its design helps to improve your sleep health and keep your CPAP mask germ-free. The Lumin uses a highly effective germicidal Ultra Violet light that eliminates, neutralizes, and kills harmful mold, fungus, and bacteria. It features the same cleaning methods that can be found in surgical centers and operating rooms. It is designed with a 3-minute and 5-minute cycle time however, while a 3-minute exposure resulted in a 100% kill rate, the extra 2-minute cycle allows "wiggle room" during personal use. Either way, there is very little wait time for your mask and accessories to be completely sanitized.
  LUMIN PROFILE

The 3B Medical Lumin UVC Sanitizing System is also a multi-purpose Disinfecting Tool. It is a great option for personal items, such as hearing aids, cell phones, baby toys, pacifiers, nebulizer, toothbrushes, dentures, teeth night guards, and many more.
The Lumin Sanitizer has been thoroughly tested and resulted in a 100% kill rate of G. stearothermophillus. Similar tests on the Lumin show that the device kill other harmful microbes as well. These tests showed a 90% kill rate of other harmful species, such as Bacillus Megatherium (spore former), Clostridium Tetani (pathogenic agent of tetanus), Staphylococcus Aureos (opportunistic pathogen), Influenza Virus (causes the flu), Saccharomyces Cerevisiae (used in winemaking, baking, and brewing).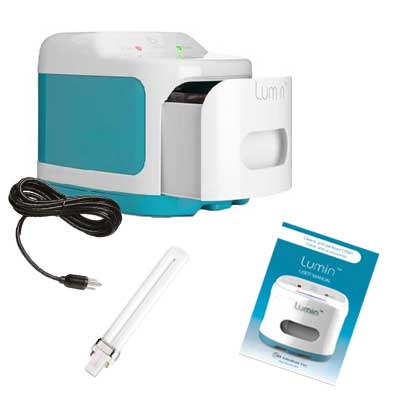 Product Components
Disinfectant Machine
UV Bulb
AC Power Cord
User Manual
A valid prescription is required for the purchase of this product.
Lumin Disinfectant Cleaner Features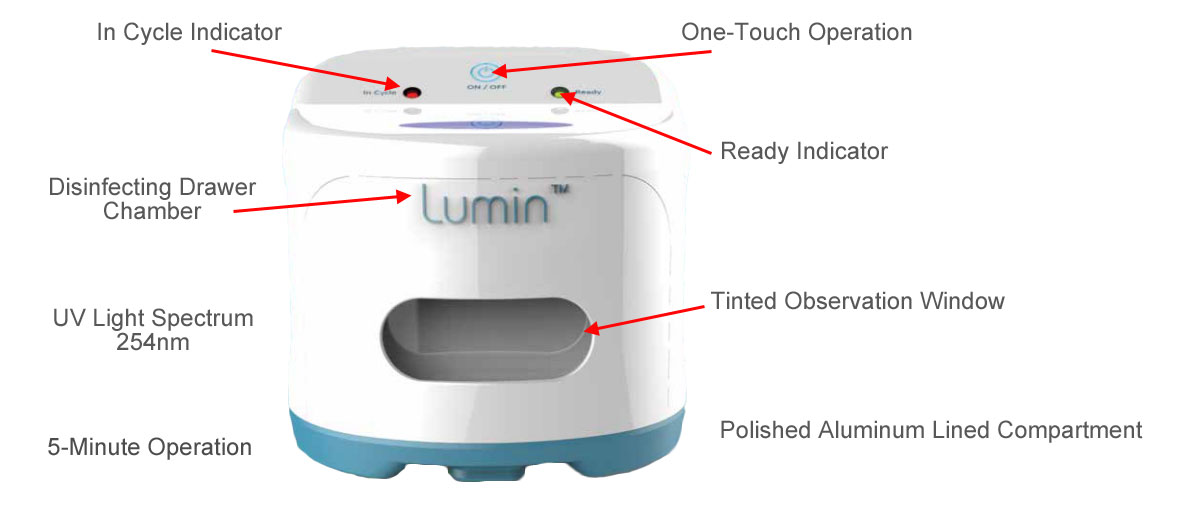 Product Features and Benefits
Kills 99.9% of Harmful Bacteria, Viruses, Mold, and Fungus
Keeps CPAP Masks Germ Free
100% Sanitization Rate in 5 Minutes
Disinfects Harmful Microbes
Same Cleaning Methods Found in Surgical Centers
Double Insulation
One-Touch Operation
No Harmful Ozone
Cost-Effective Sanitation
Sanitizes CPAP Masks, Hose, and Humidifier Water Chamber
Cleanses Hearing Aids, Dentures, Pacifiers, Toothbrushes, and More
Zero Risk of Lung Irritant for Respiratory Patients
Safe Operation
Easy to Use
Product Specifications
Product Number: LM3000
Dimensions: 12.25 x 8.5 x 7.75 Inch
Weight: 5.5 lbs.
Color: White
UV Spectrum: 254nm
UV Bulb: Mercury-Arc Germicidal Lamp
Materials: Plastic, Glass, and Polished Aluminum
Power: AC 110 V, 60 Hz; AC 220 V 50 Hz
Power Consumption: 13 Watts
Cycle Minutes: 3 and 5
Application: CPAP Mask and Accessories Sanitizer
GTIN: 817783020404
HCPCS Code: E1366
Manufacturer: 3B Medical
Manufacturer's Warranty: 2 years